Kids Klub After School Program
Kids Klub is Black Diamond's after school enrichment program.
We transport your child from school to our 15,000 square foot "playground". Your child will receive a nutritious snack and then have an afternoon of fun and engaging activities planned for each day. Our daily activities include homework time, art/science activities, games and more! Kids Klub is a fun enriching experience for all of its participants. Children are invited to participate from one to five days per week. Kids Klub after school program is for children ages 5-12. If you would like to enroll your child in a recreational class you will receive 50% off that class and we will get them to and from their activity. You can pick-up as late as 6:00pm each night.
Registration for the 2023-24 school year will open on Friday, February 10th. We will be going to Parley's Park, Trailside and Jeremy Ranch next school year. If you have any questions regarding this program please email kidsklubpc@blackdiamondgym.com
Click HERE to Register for 2023-24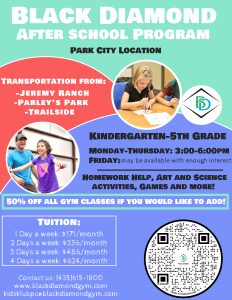 Classes
| Registration | Class | Days | Times | Ages | Openings | Tuition |
| --- | --- | --- | --- | --- | --- | --- |
| Register | Summer Camp- Week #1 (June 7-9) Ages 3-4 | Wednesday, Thursday, Friday | 9:00 am - 1:00 pm | 3 - 4 | 1 | $89.00 |
| Register | Summer Camp- Week #10 (August 7-11) Ages 3-4 | Monday, Tuesday, Wednesday, Thursday, Friday | 9:00 am - 1:00 pm | 3 - 4 | 31 | $89.00 |
| Register | Summer Camp- Week #2 (June 12-16) Ages 3-4 | Monday, Tuesday, Wednesday, Thursday, Friday | 9:00 am - 1:00 pm | 3 - 4 | 12 | $89.00 |
| Register | Summer Camp- Week #3 (June 19-23) Ages 3-4 | Monday, Tuesday, Wednesday, Thursday, Friday | 9:00 am - 1:00 pm | 3 - 4 | 22 | $89.00 |
| Register | Summer Camp- Week #4 (June 26-30) Ages 3-4 | Monday, Tuesday, Wednesday, Thursday, Friday | 9:00 am - 1:00 pm | 3 - 4 | 34 | $89.00 |
| Register | Summer Camp- Week #5 (July 5-7) Ages 3-4 | Wednesday, Thursday, Friday | 9:00 am - 1:00 pm | 3 - 4 | 24 | $89.00 |
| Register | Summer Camp- Week #6 (July 10-14) Ages 3-4 | Monday, Tuesday, Wednesday, Thursday, Friday | 9:00 am - 1:00 pm | 3 - 4 | 63 | $89.00 |
| Register | Summer Camp- Week #7 (July 17-21) Ages 3-4 | Monday, Tuesday, Wednesday, Thursday, Friday | 9:00 am - 1:00 pm | 3 - 4 | 77 | $89.00 |
| Register | Summer Camp- Week #8 (July 25-28) Ages 3-4 | Tuesday, Wednesday, Thursday, Friday | 9:00 am - 1:00 pm | 3 - 4 | 64 | $89.00 |
| Register | Summer Camp- Week #9 (July 31-August 4) Ages 3-4 | Monday, Tuesday, Wednesday, Thursday, Friday | 9:00 am - 1:00 pm | 3 - 4 | 71 | $89.00 |
| Register | Summer Camp- Half Day Week #10 (August 7-11) Ages 5-13 | Monday, Tuesday, Wednesday, Thursday, Friday | 9:00 am - 1:00 pm | 5 - 13 | 62 | $89.00 |
| Register | Summer Camp- Half Day Week #3 (June 19-23) Ages 5-13 | Monday, Tuesday, Wednesday, Thursday, Friday | 9:00 am - 1:00 pm | 5 - 13 | 81 | $89.00 |
| Register | Summer Camp- Half Day Week #4 (June 26-30) Ages 5-13 | Monday, Tuesday, Wednesday, Thursday, Friday | 9:00 am - 1:00 pm | 5 - 13 | 70 | $89.00 |
| Register | Summer Camp- Half Day Week #5 (July 5-7) Ages 5-13 | Wednesday, Thursday, Friday | 9:00 am - 1:00 pm | 5 - 13 | 42 | $89.00 |
| Register | Summer Camp- Half Day Week #7 (July 17-21) Ages 5-13 | Monday, Tuesday, Wednesday, Thursday, Friday | 9:00 am - 1:00 pm | 5 - 13 | 72 | $89.00 |
| Register | Summer Camp- Half Day Week #8 (July 25-28) Ages 5-13 | Tuesday, Wednesday, Thursday, Friday | 9:00 am - 1:00 pm | 5 - 13 | 87 | $89.00 |
| Register | Summer Camp- Half Day Week #9 (July 31-August 4) Ages 5-13 | Monday, Tuesday, Wednesday, Thursday, Friday | 9:00 am - 1:00 pm | 5 - 13 | 108 | $89.00 |
| Register | Summer Camp- Week #1 FULL Day (June 7-9) Ages 5-13 | Wednesday, Thursday, Friday | 9:00 am - 5:00 pm | 5 - 13 | 1 | $149.00 |
| Register | Summer Camp- Week #1 Half Day (June 7-9) Ages 5-13 | Wednesday, Thursday, Friday | 9:00 am - 1:00 pm | 5 - 13 | 39 | $89.00 |
| Register | Summer Camp- Week #10 FULL Day (August 7-11) Ages 5-13 | Monday, Tuesday, Wednesday, Thursday, Friday | 9:00 am - 5:00 pm | 5 - 13 | 20 | $149.00 |
| Register | Summer Camp- Week #2 FULL Day (June 12-16) Ages 5-13 | Monday, Tuesday, Wednesday, Thursday, Friday | 9:00 am - 5:00 pm | 5 - 13 | 8 | $149.00 |
| Register | Summer Camp- Week #2 Half Day (June 12-16) Ages 5-13 | Monday, Tuesday, Wednesday, Thursday, Friday | 9:00 am - 1:00 pm | 5 - 13 | 53 | $89.00 |
| Register | Summer Camp- Week #3 FULL Day (June 19-23) Ages 5-13 | Monday, Tuesday, Wednesday, Thursday, Friday | 9:00 am - 5:00 pm | 5 - 13 | 32 | $149.00 |
| Register | Summer Camp- Week #4 FULL Day (June 26-30) Ages 5-13 | Monday, Tuesday, Wednesday, Thursday, Friday | 9:00 am - 5:00 pm | 5 - 13 | 25 | $149.00 |
| Register | Summer Camp- Week #5 FULL Day (July 5-7) Ages 5-13 | Wednesday, Thursday, Friday | 9:00 am - 5:00 pm | 5 - 13 | 8 | $149.00 |
| Register | Summer Camp- Week #6 FULL Day (July 10-14) Ages 5-13 | Monday, Tuesday, Wednesday, Thursday, Friday | 9:00 am - 5:00 pm | 5 - 13 | 33 | $149.00 |
| Register | Summer Camp- Week #6 Half Day (July 10-14) Ages 5-13 | Monday, Tuesday, Wednesday, Thursday, Friday | 9:00 am - 1:00 pm | 5 - 13 | 106 | $89.00 |
| Register | Summer Camp- Week #7 FULL Day (July 17-21) Ages 5-13 | Monday, Tuesday, Wednesday, Thursday, Friday | 9:00 am - 5:00 pm | 5 - 13 | 9 | $149.00 |
| Register | Summer Camp- Week #8 FULL Day (July 25-28) Ages 5-13 | Tuesday, Wednesday, Thursday, Friday | 9:00 am - 5:00 pm | 5 - 13 | 44 | $149.00 |
| Register | Summer Camp- Week #9 FULL Day (July 31-August 4) Ages 5-13 | Monday, Tuesday, Wednesday, Thursday, Friday | 9:00 am - 5:00 pm | 5 - 13 | 57 | $149.00 |