Half & Full-Day Summer Camps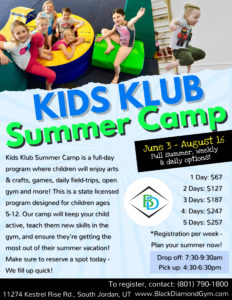 Kids Klub Summer Camp is a full-day program where children will enjoy arts & crafts, games, daily field-trips, open gym and more! This is a state licensed program designed for children ages 5-12. Our camp will keep your child active, teach them new skills in the gym, and ensure they're getting the most out of their summer vacation! Make sure to reserve a spot today – We fill up quick!
Registration is available for full summer, weekly, and daily campers. Registration opens during the last week of March.
Kids Klub Summer Camp Field Trips
Chalk It Up Summer Camp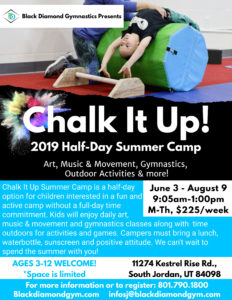 Chalk It Up Summer Cano is a half-day option for children interested in a fun and active camp without a full-day time commitment. This camp will include art classes, music and movement classes and gymnastics instruction for students. Campers will need to bring sunscreen because we will be spending time outdoors for games and activities!
Our goal is to have our students discover new passions for acrobatics, music, art, the outdoors and beyond. We're excited to see what's in store for this year's Summer Camps!