Right Start Kids Academy Preschool
We are so excited to welcome you to Right Start Kids Academy- Park City! We are a state licensed academic preschool for children ages 2-5 years old. Our preschool curriculum includes activities that assist in developing age appropriate skills in a fun and interactive way. Your child will also have one structured gymnastics class each week with a curriculum that works on their fine and gross motor skills.
We will also be adding a Friday add on this school year for non-members. You can add Friday's only and your child will enjoy a theme based learning day, gymnastics class and a couple of field trips throughout the year.
Click HERE to Register for 2023-24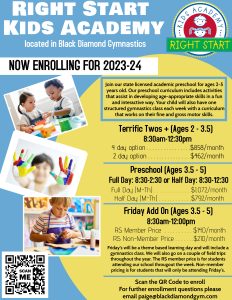 ---